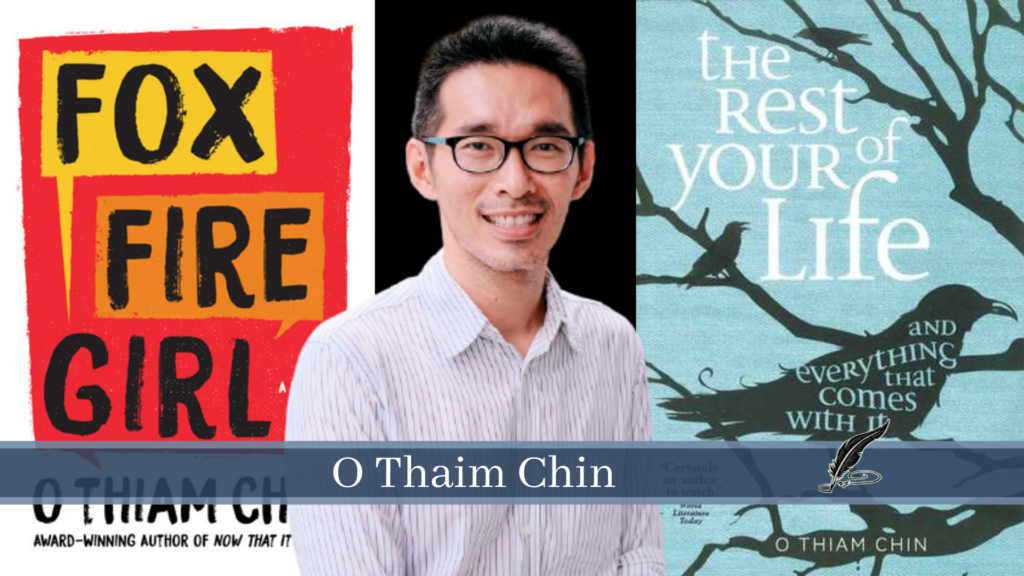 O Thiam Chin: 6 Best Books from Singapore
Fiction is one of the few experiences where loneliness can be both confronted and relieved.

David Foster Wallace
Writing fiction is a process where a writer reveals the truth of the society and the world, which the reality obscures. O Thiam Chin accepted the challenge of revealing the truth and made sure his words mark a territory of perfection.
O Thiam Chin is one of the best Singaporean writers who entered the world of fiction back in 2005. He started his career as an engineer and marketer. His passion for writing fueled up when he took a part-time English Language and Literature course. Since then, he never looked back!The author is accredited for six short story collections and two novels. He is the recipient of the Young Artist Award in 2012 and Epigram Books Fiction Prize in 2015. Thiam Chin's novel named Now That It's Over became the winner of Best Fiction Title at the Singapore Book Awards in 2017.
Stories are strange unwieldy things; they have their own identity and a unique signature. It's the end of the story that sheds light on life and the many fragments of it.

O Thiam Chin
Raymond Carver and Banana Yoshimoto were an inspiration for O Thiam Chin during his writing journey. His stories are widely recognized and featured in journals such as The Jakarta Post, Asia Literary Review, QLRS, Cha: An Asian Literary Journal, and Kyoto Journal. The main themes of Thiam's stories are heartbreak and sadness with predominant LGBTS characters.
Here's an overview of O Thiam Chin's short story collections and novels.
1. Never Been Better
Memory is such a pliable, slippery thing that it changes its nature each time you bring it up in your head afresh.
Never Been Better is a collection of memorable stories that are created with immense emotions involved. All of the stories portray the feelings of being loved and the losses one undergoes in their life. Longing, love, and the fear of loss are the stories' central themes. These stores are sure to make you feel nostalgic about the feeling related to different people in your life.
The stories are pained vividly and all the writer has described minute details for every character, O Thiam made sure each moment is relatable and mesmerizing. You can find a free-spirited teenager in one story who runs away. Another story narrates a tale about a child who is lonely and loves to collect dead animals.
From dark hidden family secrets to a livid lifestyle, the author explores every strain of heartbreak and sorrow perfectly. Melancholy captured with a touch of grace and compassionate characters make this book a worthwhile read.
The review of Never Been Better by Moira Moody praises how confidently O Thiam Chin has expressed all the characters. He indeed took time to understand each character and evoke an environment that takes the reader on a memorable journey.
2. Under the Sun
Under the Sun is a thought-provoking book, another short story collection by O Thiam Chin. All the stories in this collection are different from each other, exploring life from unique angles. It's a collection of flash fiction, revolving around the themes of grief, joy, dark secrets, and longing for love.
The stories explore male homosexual tales, offering a glimpse into their everyday life amid the condensing reality of society. All stories, in their own way, reveal such secrets that leave an unflinching mark on the reader's heart.
The stories compare fantasy to reality while exploring murder mysteries, painful childhood memories, and lustrous desires. Under the Sun is a book discovering dirty secrets, revealing family affairs, and shocking incest.
Vicky Chong in her review of Under the Sun applauds the writer for telling incredible stories and choosing a creative path for leading homosexual stories, instead of going for explicit content.
3. Free-Falling Man
If you want to read a daring book exploring forbidden love in the streets of Singapore, then go for Free-Falling Man. It's an audacious attempt by this top Singaporean writer for exploring the contrasting and introspective facets of the people of Singapore.
Free-Falling Man is another fantastic short story collection by O Thiam. These stories boldly compare the lives of same-sex people living in a city with much opposition for homosexuality.
All the characters in this book are put side by side in many contrasting real-life events. Using a fictional narrative and inventiveness, O Thiam has furtively revealed the secretive lives of the characters. From Orgy to Two Men and a Plan, Nameless, and Suicide Bomber, all the stories are interesting and provocative to read.
4. The Rest of Your Life and Everything That Comes with It
O Thiam Chin has excavated life's rawest emotions in this short story collection book. All the characters are well-defined, have emotional precision, and are in the middle of struggles typically people have in their lives. These twelve stories are disparate from each other and unveil a darker side of human beings.
The book investigates the characters' teeny tiny hidden worlds where they are caught cherishing their darker secrets. All the characters suffer from the hideous truth of life, where everything they once knew was revealed as a façade. With the inevitable change of courses in their lives, O Thiam inscribed stories of the people searching for truth hidden deep inside.
There is a bored housewife taking interest in a foreign student, a yellow elephant shaking up the life of a discontented married woman, the discovery of a teenage boy's dark truth by her mother, compulsive desires evoking in a teenager on holiday job, etc. All these stories are nerve-wracking, interesting, and nail-biting till the end.
Abigail Cheung in her review of The Rest of Your Life and Everything That Comes with It praises O Thiam Chin's mastery of crafting emotions in characters. According to her, his precision is everlasting, leaving a trail of melancholy in the readers' minds.
5. Now That Its Over
He sits upright and rubs the sides of his throbbing head. Remnants of the dream are still playing in his mind, forcing the strange dream to break its hold on him.
Now That It's Over is the first novel written by the author and became a massive hit immediately. It is regarded as one of the top writings by O Thiam Chin.
If you've read O Thiam before, from the title Now That It's Over, you may think it's a story about a relationship that got over or some dark event that happened, but all these speculations and assumptions are untrue.
The story takes place during the Christmas holidays on the island of Phuket, back in 2004. The story's central event revolves around the devastating Indian Ocean earthquake that triggered a nightmare – a tsunami. Before the earthquake, two couples were enjoying a beautiful vacation by the beach. When the tsunami strikes, all four are scattered along with millions of others.
Now That It's Over is all about the aftermath of this catastrophic tsunami and the past events of the characters. The story contrived a tapestry of destiny and the repentances of life. It depicts the emotional and physical wreckage this natural disaster brought in the lives of all.
I completely agree with the review by Working with Grace that the story is amazing and the sexual scenes are vivid. Specially the homosexual scenes are detailed and clear. However, if you are uncomfortable with this, you can avoid reading Thiam Chin's Now That It's Over.
6. Fox Fire Girl
What little I remembered fed an insatiable need for more. I needed to know everything about her. I masked my compulsion with feigned, innocuous curiosity.
Fox Fire Girl is considered one of the best O Thiam Chin books that received recognition worldwide. In this second novel, O Thiam continues to explore human relationships, love, intimacy, and passion.
The story revolves around a female protagonist who discovered that she possesses mystical powers and her spirit animal is a fox. Even though she is dating a guy already who has an obsession with fire, the lead female starts dating her ex again. When questioned about her infidelity, she gives a bizarre explanation.
Fox Fire Girl is a novel that revolves around mysterious revelations and hidden truths, revealing themselves to all. The storyline is interesting but O Thiam's treatment of the characters leaves a lot to be desired. Instead of creating characters with depth, the author's main focus seems to be on vivid imagery and the present relationships without going in details of the characters' convictions. The use of explicit language may also feel a bit too crude to many readers.
Kwan Wei Kevin critically reviewed Fox Fire Girl and believes that despite a strong theme, O Thiam was not able to carve the plot and the characters strongly. Although he has written adult content before, this novel isn't as exceptional as Now That It's Over. 
---
We welcome you on a journey around the world as we explore works of 80 cherished authors around the world. We list their famous books, give you an overview, and connect you to the best book reviews by readers like you and me so that together we can learn stories from around the world.
Find more author reviews here
Similar Posts: