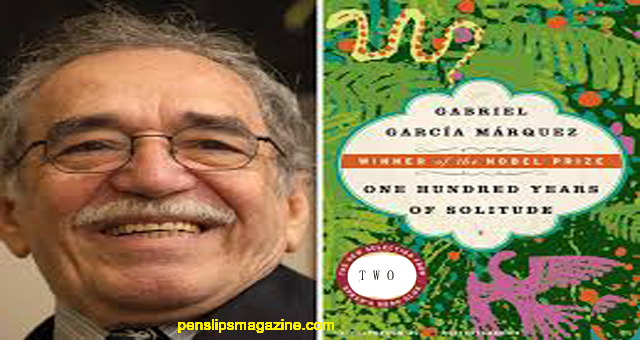 One Hundred Years of Solitude … Garcia Marquez
(TWO)
GABRIEL GARCIA MARQUEZ was born in Aracataca, Colombia in 1928, but he lived most of his life in Mexico and Europe. He attended the University of Bogota and later worked as staff reporter and film critic for the Colombian newspaper El Espectador. In addition to ONE HUNDRED YEARS OF SOLITUDE, he has also written two collections of short fiction, NO ONE WRITES TO THE COLONEL and LEAF STORM. Penslips Magazine intends to present this novel regularly.
ONE HUNDRED YEARS OF SOLITUDE
TRANSLATED FROM THE SPANISH
BY GREGORY RABASSA
ONE HUNDRED YEARS OF SOLITUDE
CHARACTERS
Jort Areadio BoendUi
m. Cnula Iguarln , olonel Aurellano Btiendia-,
-Jos6 Areadio
m-Rebeca , m. Remcdios Moscote. Remcdios Moscote , Aurcliano Jose , Aurelianos,
TWO
By then Melquiades had aged with surprising rapidity. On his first trips he seemed to be the same age as Jose Arcadio Buendia. But while the latter had preserved his extraordinary strength, which permitted him to pull down a horse by grabbing its ears, the gypsy seemed to have been worn dowse by some tenacious illness. It was, in reality, the result of multiple and rare diseases contracted on his innumerable trips around the world. According to what he himself said as he spoke to Jose Arcadio Buendia while helping him set up the laboratory, death followed him everywhere, sniffing at the cuffs of his pants, but never deciding to give him the final clutch of its claws. He was a fugitive from all the plagues and catastrophes that had ever lashed mankind. He had survived pellagra in Persia, scurvy in the Malayan archipelago, leprosy in Alexandria, beriberi in Japan, bubonic plague in Madagascar, an earthquake in Sicily, and a disastrous shipwreck in the Strait of Magellan. That prodigious creature, said to possess the keys of Nostradamus, was a gloomy man, enveloped in a sad aura, with an Asiatic look that seemed to know what there was on the other side of tilings. He wore a large black hat that looked like a raven with widespread wings, and a velvet vest across which the patina of the centuries had skated. But in spite of his immense wisdom and his mysterious breadth, he had a human burden, an earthly condition that kept him involved in the small problems of daily life.
He would complain of the ailments of old age, he suffered from the most insignificant economic difficulties, and he had stopped laughing a long time back because scurvy had made his teeth drop out. On that suffocating noontime when the gypsy revealed his secrets, Jose Arcadio Buendia had the certainty that it was the beginning of a great friendship. The children were startled by his fantastic stories. Aureliano, who could not have been more than five at the time, would remember him for the rest of his life as he saw him that afternoon, sitting against the metallic and quivering light from the window, lighting up with his deep organ voice the darkest reaches of the imagination, while down over his temples there flowed the grease that was being melted by the heat. Jose Arcadio, his older brother, would pass on that wonderful image as a hereditary memory to all of Iris descendants. Ursula on the other hand, held a bad memory of that visit, for she had entered the room just as Melquiades had carelessly broken a flask of bichloride of mercury.
"It's the smell of the devil," she said.
"Not at all," Melquiades corrected her. "It has been proven that the devil has sulphuric properties and this is just a little corrosive sublimate."
Always didactic, he went into a learned exposition of the diabolical properties of cinnabar, but Ursula paid no attention to him, although she took the children off to pray. That biting odor would stay forever in her mind linked to the memory of Melquiades.
The mdimentary laboratory—in addition to a profusion of pots, funnels, retorts, filters, and sieves—was made up of a primitive water pipe, a glass beaker with a long, thin neck, a reproduction of the philosopher's egg, and a still the gypsies themselves had built in accordance with modern descriptions of the three-armed alembic of Mary the Jew. Along with those items, Melquiades left samples of the seven metals that corresponded to the seven planets, the formulas of Moses and Zosimus for doubling the quantity of gold, and a set of notes and sketches concerning the processes of the Great Teaching that would permit those who could interpret them to undertake the manufacture of the philosopher's stone. Seduced by the simplicity of the formulas to double the quantity of gold, Jose Arcadio Buendia paid court to Ursula for several weeks so that she would let him dig up her colonial coins and increase them by as many times as it was possible to subdivide mercury. Ursula gave in, as always, to her husband's unyielding obstinacy. Then Jose Arcadio Buendia threw three doubloons into a pan and fused them with copper filings, orpiment, brimstone, and lead. He put it all to boil in a pot of castor oil until he got a thick and pestilential syrup which was more like common caramel than valuable gold. In risky and desperate processes of distillation, melted with the seven planetary metals, mixed with hermetic mercury and vitriol of Cypms, and put back to cook in hog fat for lack of any radish oil, Ursula's precious inheritance was reduced to a
Large piece of burnt hog cracklings that was firmly stuck to the bottom of the pot. (Contd)
Similar Posts:
Gabriel Garcia Marquez was an American Spanish writer. He was a renowned Colombian novelist, short-story writer, screenwriter, and journalist. He was considered the most significant authors of the 20th century, especially in the Spanish language. 
He was awarded the 1972 Neustadt International Prize for Literature and the 1982 Nobel Prize in Literature. He has many novels, short stories, and non-fiction work.
Read more from Gabriel Garcia Marquez