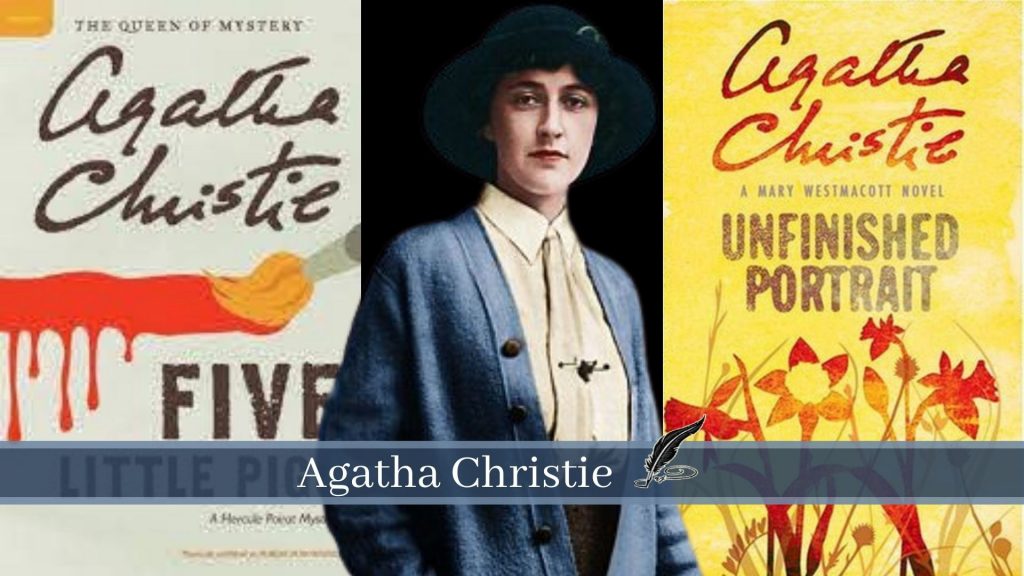 8 Best Agatha Christie Books That You Must Read and Why
Agatha Christie is the best-selling novelist of all time, outsold only by the Bible and Shakespeare. She is the unanimous Queen of Crime and Queen of Mystery. She is widely famous for her 66 detective novels and 14 short story collections.
She also has the record for writing the world's longest-running play, The Mousetrap, which started to play in 1952 and since then it has been continuously played in London theatres.
Agatha Christie is the only detective novelist who created two equally famous and most-admired characters, Hercule Poirot and Miss Marple. Excelled in mystery and detective novels, Agatha Christie also wrote famous romance novels like Unfinished Portrait and A Daughter's a Daughter.
She rules the publishing houses with more than 2 billion collective works sold worldwide and holds the record as the most translated author of all times with over 100 languages.
1. The ABC Murders
Our weapon is our knowledge. But remember, it may be a knowledge we may not know that we possess.
The ABC Murders introduces Christie's most loved characters Hercule Poirot, Arthur Hastings, and Chief Inspector Japp. The detective Hercule Poirot faces a direct challenge from a serial killer who chooses his/her victims and crime location in alphabetic order.
The ABC Murders is an excellent platform where Christie has skillfully laid out inductive and deductive reasoning crafted with the right mixture of mystery and intrigue.
Agatha Christie is such an excellent crafter, she can make the reader believe that even they might have been involved in the callous and cruel murder of Alice Asher in the novel.
The ABC Murders is an ingenious plot brimming with agonized characters, grey settings, and builds up to the crucial climax, and as you formulate your own theories, sudden revelations crumble away your theories with surprising turns of events.
I'm intrigued by Margaret's opinion in her review of the ABC Murders on why ABC committed the murders and why he selected Poirot as his adversary.
2. Murder on the Orient Express
The impossible could not have happened, therefore the impossible must be possible in spite of appearances.
If you're a foreigner in America, you'll relate to this book; if you're not, you'll get a glimpse of how they experience the cultural differences. The novel follows the life of a group of grad students from all over the world as they try to adjust to a foreign land and seek out your identity through foreign language, religion, and culture.
The novel is different from Elif's other writings in both style and tone. However, you get to enjoy the depth of perfectly carved characters, a trademark of Elif's novels. All the characters are from diverse backgrounds and interact with each other in intricate ways.
Each character is wrapped in their own bubble of struggles and the plot is tightly knit as you'll expect from an Elif Shafak book. The best thing about this novel is that it's set in a light, humorous way in which none of the characters take themselves too seriously as they go through their individual troubles.
Read why Anna Luce can't stop appreciating Shafak's compendium of words in The Saint of Incipient Insanities.
3. And Then There Were None
I don't know. I don't know at all. And that's what's frightening the life out of me. To have no idea….
If you love detective novels, And Then There Were None is a must-read. This one is so far the best detective novel of all time, selling 100 million copies.
If you ever receive a bewildering letter from an unknown source inviting you to a mysterious remote island along with nine other people who are strangers to you and each belongs to a completely different sphere of life, how will you react?
Ten characters, all suspected of murder, are lured to an island in search of their mysterious host and come across a poem narrating the death of ten Indians. It seems their fate is tied to the lines of the poem.
They face a terrifying game of systematic elimination exactly as it was predicted in the poem they read. No matter how hard you try to solve this case, every next page is completely different and you will find your mind puzzling in a labyrinth.
Emily's has written a detailed review of And Then There Was None where you can read about the character and technical insights of the story if you're interested in the literary analysis of the novel.
4. A Daughter's A Daughter
A mother's love for her child is like nothing else in the world. It knows no law, no pity. It dares all things and crushes down remorselessly all that stands in its path.
Because of her fame as a crime novelist, A Daughter's A Daughter is a lesser-known gem that gives us insights into Christie's real-life familial relationship.
You have read that a daughter's relation with her mother is of compassion, love, care, and affection. But Agatha Christie has presented completely new psychological traits of a mother-daughter relationship.
Ann Prentice is a widow who falls in love with Richard Caulfield hoping for new happiness in her life. But it also instills resentment, jealousy, and prejudice in her daughter's mind souring their relationship and bringing both of them to the brink of desperate loneliness.
The novel is an excellent depiction of how dark emotions of good people can destroy good relationships.
Anuradha Goyal's review of A Daughter's A Daughter is short and simple commentary on the different sentiments explored in this book.
5. The Murder of Roger Ackroyd
The truth, however ugly in itself, is always curious and beautiful to seekers after it.
The best thing about Agatha Christie's novels is that her artful misdirection woes the readers for a breathless read till the last word of the novel. Curiosity about what events the turning pages will unfold, the readers are glued to the novel, The Murder of Roger Ackroyd. The British Crime Writers' Association named this novel as the best crime novel.
The book forces you on false trails as events fold and with a massive twist the novel reveals the real plot like a landmine as it blows. A fantastic duel between two ingenious minds, Hercule Poirot who has retired but joins in to find the murderer, and doctor James Sheppard.
No matter how hard you try and look for clues or hints you will never find the villain. Unsuspected and saved from the eyes, the reader sets his eyes on Dr James Sheppard. But is he really the convict?
Read Avil Beckford's review of The Murder of Roger Ackroyd and use her 4-step problem solving model to solve this great mystery as the facts unfold in the story.
6. Five Little Pigs
It takes more than a printed notice to keep you from reality. . . . We've only one life to live.
A perfect plot with an open and shut case. Caroline Crale, a woman convicted of the murder of her philandering husband who is a brilliant painter. Seventeen years later in a letter to her daughter, she reveals she was innocent and never killed him.
This letter begins Agatha Christie's favorite detective Hercule Poirot's quest to solve the seemingly impossible and the most complex case of his career. If you wish to solve the case as events unfold, you need to read this novel slowly and examine all the facts carefully. You might be able to find the real convict yourself, but still be ready to be taken aback with your conjectures failing.
Digging into the past, spading minute details, and focusing on interviews to narrate what happened back then, this interesting premise will surely grab your attention into the novel's ingenious plot.
This Five Little Pigs review from Jess is all set to develop your own theories about Hercule Poirot for comprehension of the novel.
7. The Mousetrap
I have greatly enjoyed the second blooming… suddenly you find – at the age of 50, say – that a whole new life has opened before you.
The world's longest-running play begins in a guest house and every next page has thrilling surprises waiting for you. Agatha Christie has set the tempo of the novel amazingly. The novel has intrigue, suspense, and quite a few laughs that make you suspect every person in the house for the murders but the convict is still the surprise till the end.
All characters are unique and trapped in a house knowing one of them is the murderer but who? The Mousetrap has all the twists to snatch your breath away. The real attraction of The Mousetrap remains in simple details and hints that you keep in mind throughout to anticipate what's coming.
If you loved 'And Then There Were None' you are gonna love this one too. Both are similar in setting and plot however the treatment of the story and the storyline itself is quite different.
Why The Mousetrap has been the longest running play of English language. Chris Jones might answer your curiosity.
8. Unfinished Portrait
The truth, however ugly in itself, is always curious and beautiful to seekers after it.
If you have read her biography, you will find this novel has many similarities to Christie's real-life. Unfinished Portrait is a semi-autobiographical novel and her second romantic novel written under the pseudonym, Mary Westmacott, and became her most read non-crime novel.
A woman who is on the verge of committing suicde after a desperate relationship with three of her most beloved people – her mother, her daughter and her ex husband.
Celia, the alternate character meets Larraby, a successful portrait painter, and a new phase of her life begins! The novel also gives you an insight into the customs and prejudice of the society of that era towards women.
In this review of Unfinished Portrait by Sergio you can read about all the elements in the novel resembling Christie's real life.
---
We welcome you on a journey around the world as we explore works of 80 cherished authors around the world. We list their famous books, give you an overview, and connect you to the best book reviews by readers like you and me so that together we can learn stories from around the world.
Find more author reviews here
Similar Posts: