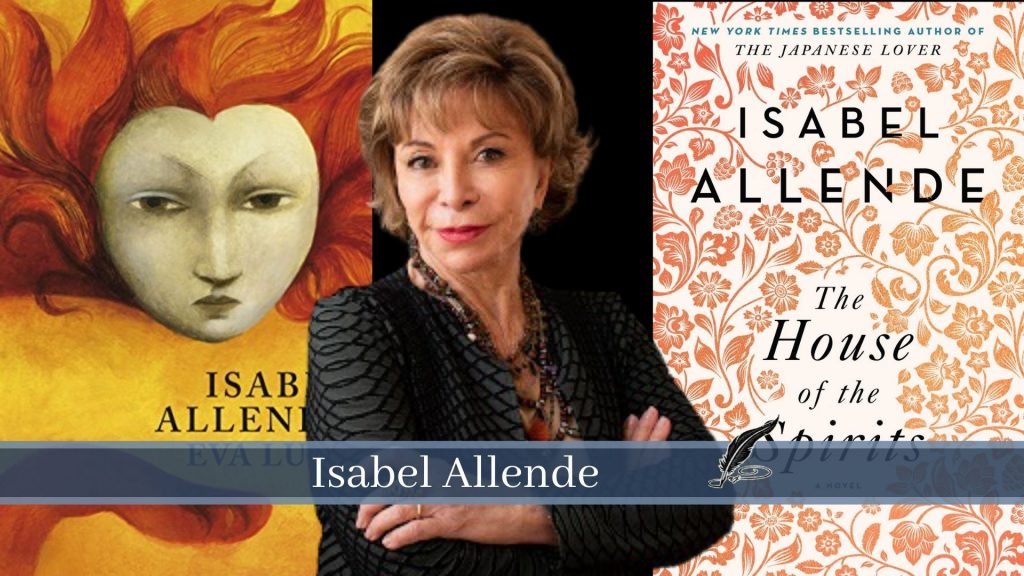 7 Must-Read Novels by Isabel Allende
Isabel Allende is a Chilean journalist, a TV host, and a prolific writer whose novels are regarded as the second-best contribution to magical realism, a genre pioneered and popularized by Gabriel Garcia Marquez.
When she crafted her first and the most popular novel, The House of the Spirits, Isabel Allende, was a school teacher. She started writing it as an open letter to her dying grandfather that ultimately became a full-fledged manuscript. Later on, this masterpiece became an international bestseller and positioned Allende as the decade's literary star.
She received the Panorama Literario and Novel of the Year award in 1982 for delivering the commercially most successful novel of the 20th century. The story has been translated into 35 languages. Allende has also written memoirs, historical books, and fiction for young adults. She has a crime novel under her belt as well.
During an interview with Harvard Business Review, she said, "Storytelling is like an ear for music. You have it, or you don't."
She begins her novels on the day when she first wrote The House of Spirits, considering it the luckiest day of her life. She is known as "the world's most widely read Spanish-language author."
Allende received many international awards, including the Lifetime Achievement award in 2017, Grand Prix d'Evasion, International Historical Novel Award, and BBC listed her name in BBC 100 Women.
Here are the 7 best Isabel Allende books that you must read and why!
1. The House of the Spirits
You can't find someone who doesn't want to be found.
This novel is a MUST read if you want to learn more about South America and Chilean culture. The House of the Spirits is a classic, magical realism epic following the style and pattern of Garcia Marquez's One Hundred Years of Solitude.
It's a sprawling saga of four generations of the Trueba family. The main focus is on three independent, and eccentric women named Clara, her daughter Blanca, and granddaughter Alba. All three have to fight to survive misogyny and adversity in their life.
This novel presents a historical yet violent transition of Haiti (now a Caribbean country) from a French colony founded on slavery into an independent republic at the beginning of the 18th century.
The novel alludes to the real people in Allende's family. The story weaves through personal, political, and historical events from the times of World War 1 until the CIA-backed military coup d'etat in 1973. It also highlights social issues such as classicism, extremism, feminism, motherhood, rape, poverty, and the brutality of dictatorship in South America.
Allende has successfully played with natural settings in the novel, presenting characters as beautiful as mermaids or even mythical creatures like dogs the size of a horse. Her expertise in magical realism is visible through many characters like her protagonist Clara's clairvoyance ability to move certain things, read dreams, and watch the future are astonishing.
I agree with Laura's review of The House of Spirit; this book can make you laugh, think, despair, and grieve, all at the same time.
3. Of Love and Shadows
It was just the sum of two loneliness and many absences.
This novel explores the struggles and determination of a couple willing to risk everything for the sake of justice and truth to prevail against Pinochet's dictatorship.
Irene Beltran, the protagonist of the novel, is a reporter and is the only child of an upper-class family. Francisco Leal is a photographer who works in the same agency as Irene Beltran and is deeply affected by her beauty and elegance.
Though the novel's central focus is a frightening political situation, social injustice, and the oppressions that the masses suffer from, amid all the chaos, Allende has successfully weaved a love story between the two main characters of the story.
A girl from an unnamed family has gets kidnapped, brutally raped, and buried by the soldiers in town. Irene and Leal have two choices; either raise voice against this injustice and risk their and their loved ones' lives or withdraw from the case.
Irene and Leal are up for investigating a mysterious and inhumane crime that no one else dares to explore.
When Allende wrote this book, she was facing exile in Caracas, Venezuela, for denouncing the military expedition. Through the portrayal of Irene Beltran, Allende has exposed the brutality and atrocities of Pinochet's regime in this novel.
According to Joanne, in his review of Of Love and Shadows, the plot is the perfect mixture of hope, romance, faith, pain, mild humor, heartache, and happiness.
3. Island Beneath the Sea
Money doesn't buy happiness, but it does buy nearly everything else.
Island Beneath the Sea is Zarite's transformation from a young and vulnerable black girl into a strong black woman. Often considered as a story of power, race, and slavery, the novel has a powerful undertone of Zarite's life journey filled with pain, sorrow, dedication, and determination.
Isabel, through some powerful characters, shows the abuse of power and the injustice done by those in power to the oppressed class. But many promising events also take place in the novel.
After years of sacrifice, finally, blacks are gaining political and social empowerment. Now they can take revenge on French colonialists. The Haitian revolution is near, and Zarite has to make crucial decisions and shocking sacrifices.
I agree with Lisa Ann in her review of Island Beneath The Sea that there are only a few novels that readers wish never to end, and Island beneath The Sea is one of them.
4. Eva Luna
On that long journey, she wept all the tears stored in her soul, leaving none in reserve for later sorrows.
The novel has a dual narrative. In the first part, we are introduced to Eva Luna. She is the daughter of a professor's assistant and a god-gifted and creative storyteller just like Allende herself.
Her only hope that could promise her a good fortune is the excellent storytelling skills that she gains after undergoing some of the best and worst life experiences as she's growing up.
Eva recognizes her skill when she experiences deprivation, political violence, struggle, and personal challenges. She never becomes the victim of circumstances but instead faces the problems and comes out as a better person.
Then, there's Rolf, a refugee who, after facing all the hardships of life, comes to South America and fulfills his destiny by meeting Eva. Both have lived a life full of struggles, misfortunes, and personal tragedies that shape their personality and future.
In her review of Eva Luna, Tasha has highlighted the good and bad scenarios of the novel in a very straightforward way.
5. Paula
She died in my arms, surrounded by her family, the thoughts of those absent, and the spirits of her ancestors who had come to her aid.
How would you react to talking to your bedridden daughter, who has almost no hope of ever getting up? This memoir reveals our favorite novelist, Isabel's emotional side, when she narrates her stories to her unconscious daughter. Indeed unimaginable circumstances!
Allende has won accolades for writing this remarkable memoir and sharing her family history, giving a beautiful perspective to a mother-daughter relationship.
In this first-ever nonfiction masterpiece by Allende, she narrates a very personal story of her dying daughter, who had been in a fatal coma for years. It's a hope against hope that one day she will gain enough strength to get up and read the letters herself.
Allende takes her readers to feel the grief and suffering of the loss of a familial relative.
Paula inherits a disorder called porphyria, a deadly incurable disease, from her father. After one year of marriage, she faces severe symptoms. Her health never improves, and one day she suddenly falls on the floor, perhaps never to stand on her feet again.
Sitting next to her daughter in Madrid hospital, Allende narrates her story; her first failed marriage, the journey to feminism, her bundle ribboned letters to her mother…
Though we get some light-hearted moments and a couple of funny anecdotes but mainly this book is brimming with loss, agony, grief, pain, and in the end, death.
You're sure to feel shaken by this book and may even end up crying like Hadley, as she discloses in her review of Paula.
6. Daughter of Fortune
The law of the jungle rules, the only ideology is greed.
Daughter of Fortune is the story of a young female protagonist Eliza Sommers striving to gain knowledge and self-esteem in a world full of strange people.
Two wealthy siblings, Jeremy and Rose Sommers raised Eliza as part of their family after they found her as a newborn baby lying in a basket against their door.
Eliza falls in love with Joaquin Andieta, a young Chilean man, but when the news of the gold discovery in California reaches far and wide, everything changes for Andieta and Eliza. When Eliza goes to California, she embarks on another journey that transforms her into a courageous, independent woman who wins her personal freedom.
The novel may seem like the story of Eliza's journey to find her lover, but in fact, it explores the American Dream and the earnest desire of people who reach there to win materialistic success.
In his review of Daughter of Fortune, Joel believes that Eliza's life events depict close personal accounts of Isabel Allende's own life.
---
We welcome you on a journey around the world as we explore works of 80 cherished authors around the world. We list their famous books, give you an overview, and connect you to the best book reviews by readers like you and me so that together we can learn stories from around the world.
Find more author reviews here
Similar Posts: