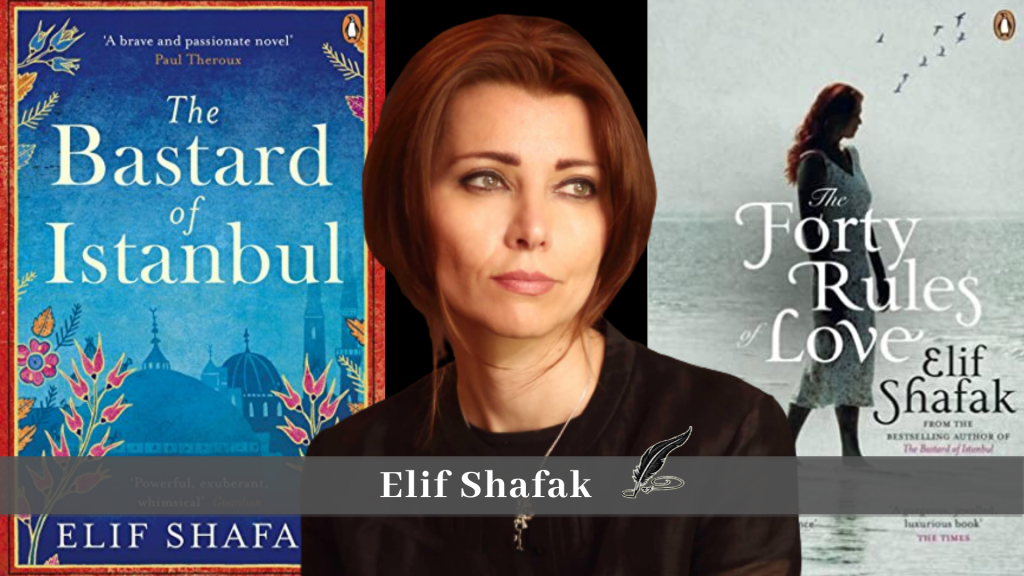 10 Best Elif Shafak Books You Must Read and Why
"For a writer, for a storyteller, ultimately, there is one portable homeland. It's called Storyland."
Renowned for Forty Rules of Love, Elif Shafak is an award-winning and the most-read Turkish author. She has published 17 books that have won worldwide appreciation. The best Elif Shafak books have been translated into more than 50 languages.
BBC listed Forty Rules of Love among the 100 novels that shaped our world. Her latest novel 10 Minutes 38 Seconds in this Strange World is shortlisted for the Booker Prize and chosen Blackwell's Book of the Year.
Elif Shafak is not only a writer but an influential public speaker, human rights activist, and freedom of speech advocate as well. She is an active member of the Royal Society of Literature and has received the award Chevalier des Arts et des Lettres.
"In my writing, I have always asked questions about silences and tried to give more voice to the silenced."
The best Elif Shafak books tell the story simply and intricately, letting the reader decide what they want to take away from it. She tells the story plain and simple without working hard to bring you to a moral conclusion. Her characters are true to life, with their flaws, struggles, and strengths.
Here are top 10 novels by Elif Shafak that everyone should read.
East, West, South, or North makes little difference. No matter what your destination, just be sure to make every journey, a journey within. If you travel within, you'll travel the whole wide world and beyond.
Reading Forty Rules of Love will make you think… whether you like it or hate it, but you won't be able to ignore it. It's one of the best Elif Shafak books that has inspired and invoked many discussions. There are two parallel stories in this book, one of Ella and Aziz and the other of Shams and Rumi.
Through these parallel stories set in very different timelines, Elif explores the meanings of life, existence, love, respect, good, and the bad.
The novel narrates precious life lessons or golden nougats of love, i.e. the forty rules of love portrayed through Sufi figures Shams and Tabraiz. Elif's views in each chapter represent different aspects of our society and their prejudices and judgments about things they don't understand. The novel makes us think who we are and where we stand.
I love Tasmiyah's review of Forty Rules of Love as she discusses the novel's deep impact and takes up the misconceptions regarding Rumi and Shams' relationship.
We are all half fool, half wise, there is no wisdom without foolishness and no pride without shame.
Elif knows how to grip her readers' attention from the very beginning. From the very beginning, we are told that Iskender kills his mother for family honor. Throughout the novel, we are presented with different events and viewpoints that make us question, what honor of a family?
The author has been successful in drawing readers' attention to a seemingly very ordinary storyline of immigrant Muslims living in England to some of the most bitter aspects of our judgmental society.
Throughout the novel, we come across various situations in which the family's honor is put at stake, but the narration remains simple and non-dramatic. And, like everyday life, for many readers, the honor will only remain as the story of a son who killed his mother due to a misunderstanding.
I agree with Cheryl Pasquier's review of Honor that the novel makes you question cultural and gender differences.
Home isn't where it used to be. Home is anywhere you hang your head.
If you're a foreigner in America, you'll relate to this book; if you're not, you'll get a glimpse of how they experience the cultural differences. The novel follows the life of a group of grad students from all over the world as they try to adjust to a foreign land and seek out your identity through foreign language, religion, and culture.
The novel is different from Elif's other writings in both style and tone. However, you get to enjoy the depth of perfectly carved characters, a trademark of Elif's novels. All the characters are from diverse backgrounds and interact with each other in intricate ways.
Each character is wrapped in their own bubble of struggles and the plot is tightly knit as you'll expect from an Elif Shafak book. The best thing about this novel is that it's set in a light, humorous way in which none of the characters take themselves too seriously as they go through their individual troubles.
Read why Anna Luce can't stop appreciating Shafak's compendium of words in The Saint of Incipient Insanities.
The soul that can speak through the eyes can also kiss with a gaze.
If we want to describe this novel in one sentence from Elif's writings, this novel is a world of spectacles, about seeing and being seen. Many people find it difficult to digest, but it's one of the best books by Elif Shafak with many layers to the story.
How cruel the gaze of society could be and what it does to our psychology, lifestyle, relations, and every other aspect of our life, are the themes of this novel. It's a story of how looks can change the way of what people see in you and what you want them to see.
In short, gazing, seeing, being seen, watching without really seeing. The novel comprises two completely different perspectives from a girl and boy living together that become one through the end leaving the readers mesmerizing.
I agree with Philippa that prejudice and passing judgments on others are destroying our society which Elif portrays without being assertive or judgmental.
Perhaps this is why lunatics have a harder time dating, not because they are off the wall but because it is hard to find someone who is willing to date so many people in one person.
This is the novel that made Elif known worldwide; it's one of her best books. This is also the novel that made her almost end up in jail and get sentenced for three years for anti-turk sentiments in the book.
The Bastard of Istanbul is a witty and clever writing. The novel takes up the forbidden theme of the Armenian genocide at the hands of Turks, Turkish identity pre and post-Ataturk, and a passionate story told with whimsy, humor, and beauty.
As with many of Elif's novels, the story runs parallel in modern age and history. As usual, Elif effortlessly meanders through different characters set in different timelines to weave an intricate tapestry of events. The novel also depicts the cultural differences of the families and gives you a glimpse into the internal mechanics of Turkish and Armenian families.
I love Matt Luedke's review of The Bastard of Istanbul which is very rational and the comparison book list is really helpful.
Unspoken words ran between the women of this town, like washing lines strung between houses.
Ever felt abused by the confined parameters of a patriarchal society? If yes, this novel will surely attract your attention, or else it'll help you empathize with the problems faced by those who don't conform to the typical societal norms.
The story revolves around Leila as her life passes in front of her eyes in the last 10 minutes and 38 seconds after she's stabbed and thrown in a dumpster to die. Her thoughts and flashbacks not only depict her life but the life of every wrecked, disabled, or oppressed person.
Leila's death is not the end of the story but a beginning. It's the last 10 minutes and 38 seconds till she loses the last sparks of life whizzing through her brain as she encounters her life. The themes of the novels are timely and timeless and iconic to Elif's style, you will see the events unfold in context with the age and place they exist.
If you're on the fence about reading this novel, Michelle Lancaster's review of 10 Minutes 38 Seconds in This Strange World will help you decide.
If you want to destroy something, be it a blemish, acne, or the human soul, all you need to do is surround it with walls.
If you're curious about the personal life of your favorite author, Black Milk is Elif's journey through postpartum depression and how she grew through it all. The novel revolves around her struggles, tears, emotions, and inner conflict depicted through the bickering of the thumbelinas in her internal world.
On the surface, Black Milk is an autobiographical novel but it's also an insightful journey into the world of female authors throughout history. You get to know the personal struggles of renowned female writers and literary characters. Elif shares her insecurities about being a mother and how being an author has affected the family life and motherhood choice of female authors.
I like Momina's review of Black Milk because it's short and to-the-point.
That is what the past was, that which you could not get rid of. The past did not resemble the crumbs spilled over a rug. You could not shake them out from open windows.
There are no heroes, no villains, and no tales of adventures within or without, yet the Flea Palace keeps you hooked till the end. Why? Because of the mood, the book sets inside your head.
The story takes place in the Bourbon Palace which was built on a graveyard and has a distinct garbage smell. The way Elif takes you from one apartment to another depicts a journey from one mind to the other until you've known the secrets of all.
The story is long, slow-paced and at times difficult to follow with so many characters. At times, all the stories feel disjoint but the author doesn't try to hide this fact. I feel it's deliberate because that's how the tales of inhabitants of the Bourbon Palace are supposed to meet. Residing at one place, their stories should touch each other only as much as their lives do in that apartment building. Living together but apart! One of the best Elif Shafak books indeed!
I agree with Kushal's review of the Flea Palace that you should read other books like The Forty Rules of Love, The Bastard of Istanbul, or 10 Minutes and 38 Seconds in This Strange World before you read this novel.
I came to the city of mirrors because my story is blocked by another story written before me. I am in the city of mirrors because once I can wash this me down, the waters will flow, crazy, crazy; I feel.
This book gives Elif Shafak's perceptions of the angst, of immigrants, of multiculturalism. You will see her quoting many known philosophers and anecdotes. This book is an excellent read for people who intend to move to another country or are already living in a country different from their homeland.
The novel is a beautiful documentary of how our home builds our identity and enriches our lives with positive energy whether we're living in our homeland or far away.
"The one who leaves his or her homeland for good is often stalked by mixed emotions of guilt, longing, confusion, anticipation, and insecurity, some or all of which can spring up from out of nowhere, for no reason at all."
Ainee Nizami's review of The Happiness of Blond People is interesting especially the way this book inspired her to fight for her Muslim identity.
---
We welcome you on a journey around the world as we explore works of 80 cherished authors around the world. We list their famous books, give you an overview, and connect you to the best book reviews by readers like you and me so that together we can learn stories from around the world.
Find more author reviews here
Similar Posts: