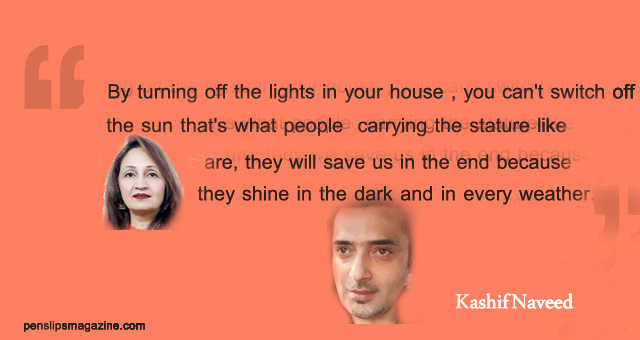 Kashif Naveed
To
Safia Hayat
When we begin to write purpose we give back to society and many do not choose this path since this requires one to be brave enough to stand in the dark night. We are not appreciative of those writing purpose stretching the limits of our beliefs in their lives, we recognize them later.
By turning off the lights in your house you can't switch off the Sun that's what people carrying the stature like Safia Hayat are, they will save us in the end because they shine in the dark and in every weather.
A small tribute to people of her stature ,
Stature of Safia Hayat
———————————-
The rebels, the misfits,
The shapes that don't fit into the right holes, the warriors,
The ones that got away,
The ones that push the limits of the human race further
The ones that have been declared insane
But they are genuine enough to disagree with the status quo
The ones that are the torch bearer of sun in a dark night
The ones that can't be saved,
Because may be,
Just may be
They are the ones that will save us.
Kashif Naveed.
Similar Posts: