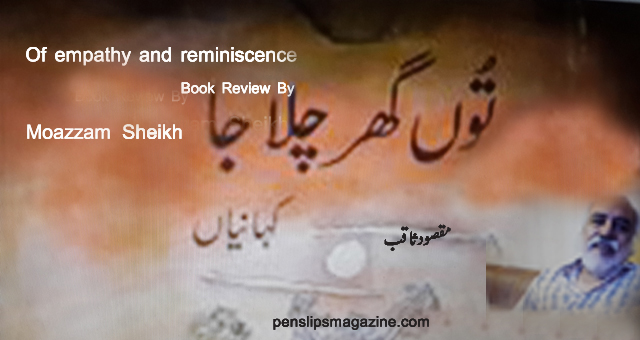 Toon Ghar Chala Ja by Moazzam Sheikh : Review
Toon Ghar Chala Ja
Author: Maqsood Saqib
Reviewer: Moazzam Sheikh
Maqsood Saqib returns to fiction through stories that offer powerful insight into a world which may have been lost forever
It is a delightful thing to see Maqsood Saqib taking time out to work on his own fiction. He has dedicated his nights and days to make sure the Punjabi language earns its rightful place in the country. He does this by editing the premier Punjabi language literary magazine Pancham, and publishing other Punjabi writers.
Every time I nudged him to get back to his writing, I heard the familiar excuse of him finding no time for his own fiction. I first encountered Saqib's fiction in 2002 when I was in the middle of editing A Letter From India: contemporary Pakistani Short Stories for Penguin India. I regretted not having been able to include his story for several reasons, one being the inclusion of a story by Faiza Rana, his wife, another dedicated soldier in the service of the cause of Punjabi language.
The book in hand is sheer joy, even if the writing itself is at times a bit hard on the eye. That is because Saqib, unlike other fiction writers, is not only writing fiction but re-creating language, new words and expressions, adding to his prose the vocabulary of a language which doesn't have a rich and deep modern prose vocabulary despite its wealth of poetic works. It may be safe to say that Punjabi fiction has done better on the other side of the border, both in terms of quantity and quality, and what little exposure the Punjabi reader of Pakistan has had of Indian Punjabi writers is due to none other than Maqsoo Saqib and people who work closely with him.
The slim book of short stories has twenty pieces in all of various lengths. Although I enjoyed almost all the stories, it is difficult to remember many stories' plot and main concern. My advice to writers of short stories would be to minimise the number of stories in one collection; otherwise, they risk losing the attention of the reader. Several stories are too short and, despite the mesmerising language, linger at the back of one's mind more like a melody, or mood, rather than a story.
The construction of mood through his choice of words, often unusual syntax, is Maqsood Saqib's greatest strength. Whether it is through the interiority of a woman who mourns a dead mother while using the month of Moharram as a decoy or a husband who is irritated by an old cleaning lady's annoying ways, such as her insistence on folding the blanket in her own particular way, the author has tremendous empathy for his characters. There are only one or two stories where he loses sight of such empathy when the tragedy of partition, the pain of which he still feels in his heart, gives way to more didactic treatment as is evident in the story 'Te Pakistan ban gya si'.
Having read all the stories, one is left, also, with the impression the author is pained at the rapidly changing world before his eyes as old values and general empathy give way to greed and selfishness. It is perhaps this concern that forces Saqib to recollect the lost world by taking several of his characters in reminiscence mode. At times, the world he creates through remembering is nothing less than magic as two friends meet and talk in 'Hun baRa araam ae' and 'Ik rugh aNgaN da'. But it also restricts his ability to propel his stories forward and take narrative risk.
He does try it in his tiny gem of a story titled 'Watchman'. The narrator of the story embodies the spirit of the author as he takes a chance not knowing which way his encounter will fall as he engages the night watchman because he couldn't subjugate his addiction to cigarettes. The reader feels empathy with both the narrator as he is embarrassed in his own eyes as well as the night watchman whose low class station is the cause of his meaningless life.
Similarly the story 'Pihu' shows his delicate handling of a man's inner turmoil, anxiety, and emotional dependency on the female character Pihu, who may be his own creation breathing within his bosom. Even though it talks about the narrator's nightmares, it is unburdened by reminiscence, allowing the reader to experience instead the character's fears as if they are our own.
This burden to acquaint the reader with history can blind the author from wonderful possibilities. Take for example, 'Shaheedi',which so succinctly evokes the horror of the partition as two characters of miraasibackground find themselves running and hiding, encountering massacres and destruction only to be captured by a few Sikhs thirsty for Muslim blood. Perhaps tired of killing, a Sikh man asks the soon-to-be-murdered his profession. When the young man professes he is of a miraasi background, he is asked to sing. He then sings verses from the gurbani. Their lives are spared as one of the Sikhs realises the man belongs to the family of Bhai Mardana, a close companion of Baba Guru Nanak.
All of this takes place through the reminiscences of one Zakria saheb, a retired journalist who is the direct beneficiary of the tale told to him by none other than the one whose life was spared by the Sikhs. The memory was unleashed because Zakria saheb has encountered a news items about those martyred in a bomb blast in a mosque. Caught in exposing a little known chapter of history, the author loses a golden opportunity to allow the Sikh character a moment of reflection when he spares the Muslim men's life. It never occurs to him why he had killed other innocents who lived with Sikh and Hindus for over a thousand years.
Still, that's a minor digression, given that the stories offer so much insight into a world which may have been lost forever. To recover some of the loss through deeply sensitive stories is no small feat.