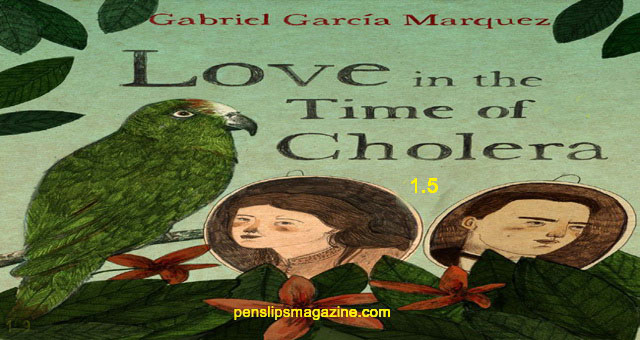 Love in the time of Cholera …. Garcia Marquez
Gabriel García Márquez
LOVE in the
TIME of
CHOLERA
CHAPTER ONE
(5)
Florentino Ariza, unseen in the crowd of notable personages, felt a piercing pain in his side. Fermina Daza had not recognized him in the confusion of the first condolences, although no one would be more ready to serve or more useful during the night's urgent business. It was he who imposed order in the crowded kitchens so that there would be enough coffee. He found additional chairs when the neighbors' proved insufficient, and he ordered the extra wreaths to be put in the patio when there was no more room in the house. He made certain there was enough brandy for Dr. Lácides Olivella's guests, who had heard the bad news at the height of the silver anniversary celebration and had rushed in to continue the party, sitting in a circle under the mango tree. He was the only one who knew how to react when the fugitive parrot appeared in the dining room at midnight with his head high and his wings spread, which caused a stupefied shudder to run through the house, for it seemed a sign of repentance. Florentino Ariza seized him by the neck before he had time to shout any of his witless stock phrases, and he carried him to the stable in a covered cage. He did everything this way, with so much discretion and such efficiency that it did not even occur to anyone that it might be an intrusion in other people's affairs;
on the contrary, it seemed a priceless service when evil times had fallen on the house.
He was what he seemed: a useful and serious old man. His body was bony and erect, his skin dark and clean-shaven, his eyes avid behind round spectacles in silver frames, and he wore a romantic, old- fashioned mustache with waxed tips. He combed the last tufts of hair at his temples upward and plastered them with brilliantine to the middle of his shining skull as a solution to total baldness. His natural gallantry and languid manner were immediately charming, but they were also considered suspect virtues in a confirmed bachelor. He had spent a great deal of money, ingenuity, and willpower to disguise the seventy-six years he had completed in March, and he was convinced in the solitude of his soul that he had loved in silence for a much longer time than anyone else in this world ever had.
The night of Dr. Urbino's death, he was dressed just as he had been when he first heard the news, which was how he always dressed, even in the infernal heat of June: a dark suit with a vest, a silk bow tie and a celluloid collar, a felt hat, and a shiny black umbrella that he also used a walking stick. But when it began to grow light he left the vigil for two hours and returned as fresh as the rising sun, carefully shaven and fragrant with lotions from his dressing table. He had changed into a black frock coat of the kind worn only for funerals and the offices of Holy Week, a wing collar with an artist's bow instead of a tie, and a bowler hat. He also carried his umbrella, not just out of habit but because he was certain that it would rain before noon, and he informed Dr. Urbino Daza of this in case the funeral could be held earlier. They tried to do so, in fact, because Florentino Ariza belonged to a shipping family and was himself President of the River Company of the Caribbean, which allowed one to suppose that he knew something about predicting the weather. But they could not alter the arrangements in time with the civil and military authorities, the public and private corporations, the military band, the School of Fine Arts orchestra, and the schools and religious fraternities, which were prepared for eleven o'clock, so the funeral that had been anticipated as a historic event turned into a rout be-cause of a devastating downpour. Very few people splashed through the mud to the family mausoleum, protected by a colonial ceiba tree whose branches spread over the cemetery wall. On the previous afternoon, under those same branches but in the section on the other side of the wall reserved for suicides, the Caribbean refugees had buried Jeremiah de Saint-Amour with his dog beside him, as he had requested.
Florentino Ariza was one of the few who stayed until the funeral was over. He was soaked to the skin and returned home terrified that he would catch pneumonia after so many years of meticulous care and excessive precautions. He prepared hot lemonade with a shot of brandy, drank it in bed with two aspirin tablets, and, wrapped in a wool blanket, sweated by the bucketful until the proper equilibrium had been reestablished in his body. When he returned to the wake he felt his vitality completely restored. Fermina Daza had once again assumed command of the house, which was cleaned and ready to receive visitors, and on the altar in the library she had placed a portrait in pastels of her dead husband, with a black border around the frame. By eight o'clock there were as many people and as intense a heat as the night before, but after the rosary someone circulated the request that everyone leave early so that the widow could rest for the first time since Sunday afternoon.
Fermina Daza said goodbye to most of them at the altar, but she accompanied the last group of intimate friends to the street door so that she could lock it herself, as she had
always done, as she was prepared to do with her final breath, when she saw Florentino Ariza, dressed in mourning and standing in the middle of the deserted drawing room. She was pleased, because for many years she had erased him from her life, and this was the first time she saw him clearly, purified by forgetfulness. But before she could thank him for the visit, he placed his hat over his heart, tremulous and dignified, and the abscess that had sustained his life finally burst.
"Fermina," he said, "I have waited for this opportunity for more than half a century, to repeat to you once again my vow of eternal fidelity and everlasting love."
Fermina Daza would have thought she was facing a madman if she had no t had reason to believe that at that moment Florentino Ariza was inspired by the grace of the Holy Spirit. Her first impulse was to curse him for profaning the house when the body of her husband was still warm in the grave. But the dignity of her fury held her back. "Get out of here," she said. "And don't show your face again for the years of life that are left to you." She opened the street door, which she had begun to close, and concluded:
"And I hope there are very few of them."
When she heard his steps fade away in the deserted street she closed the door very slowly with the crossbar and the locks, and faced her destiny alone. Until that moment she had never been fully conscious of the weight and size of the drama that she had provoked when she was not yet eighteen, and that would pursue her until her death. She wept for the first time since the afternoon of the disaster, without witnesses, which was the only way she wept. She wept for the death of her husband, for her solitude and rage, and when she went into the empty bedroom she wept for herself because she had rarely slept alone in that bed since the loss of her virginity. Everything that belonged to her husband made her weep again: his tasseled slippers, his pajamas under the pillow, the space of his absence in the dressing table mirror, his own odor on her skin. A vague thought made her shudder: "The people one loves should take all their things with them when they die." She did not want anyone's help to get ready for bed, she did not want to eat anything before she went to sleep. Crushed by grief, she prayed to God to send her death that night while she slept, and with that hope she lay down, barefoot but fully dressed, and fell asleep on the spot. She slept without realizing it, but she knew in her sleep that she was still alive, and that she had half a bed to spare, that she was lying on her left side on the left- hand side of the bed as she always did, but that she missed the weight of the other body on the other side. Thinking as she slept, she tho ught that she would never again be able to sleep this way, and she began to sob in her sleep, and she slept, sobbing, without changing position on her side of the bed, until long after the roosters crowed and she was awakened by the despised sun of the morning without him. Only then did she realize that she had slept a long time without dying, sobbing in her sleep, and that while she slept, sobbing, she had thought more about Florentino Ariza than about her dead husband.
CHAPTER TWO
(ONE)
FLORENTINO ARIZA, on the other hand, had not stopped thinking of her for a single moment since Fermina Daza had rejected him out of hand after a long and troubled love affair fifty-one years, nine months, and four days ago. He did not have to keep a running tally, drawing a line for each day on the walls of a cell, because not a day had passed that something did not happen to remind him of her. At the time of their separation he lived with his mother, Tránsito Ariza, in one half of a rented house on the Street of Windows, where she had kept a notions shop ever since she was a young woman, and where she also unraveled shirts and old rags to sell as bandages for the men wounded in the war. He was her only child, born of an occasional alliance with the well-known shipowner Don Pius V Loayza, one of the three brothers who had founded the River Company of the Caribbean and thereby given new impetus to steam navigation along the Magdalena River.
Don Pius V Loayza died when his son was ten years old. Although he always took care of his expenses in secret, he never recognized him as his son before the law, nor did he leave him with his future secure, so that Florentino Ariza used only his mother's name even though his true parentage was always common knowledge. Florentino Ariza had to leave school after his father's death, and he went to work as an apprentice in the Postal Agency, where he was in charge of opening sacks, sorting the letters, and notifying the public that mail had arrived by flying the flag of its country of origin over the office door.
His good sense attracted the attention of the telegraph operator, the German émigré Lotario Thugut, who also played the organ for important ceremonies in the Cathedral and gave music lessons in the home. Lotario Thugut taught him the Morse code and the workings of the telegraph system, and after only a few lessons on the violin Florentino Ariza could play by ear like a professional. When he met Fermina Daza he was the most sought-after young man in his social circle, the one who knew how to dance the latest dances and recite sentimental poetry by heart, and who was always willing to play violin serenades to his friends' sweethearts. He was very thin, with Indian hair plastered down with scented pomade and eyeglasses for myopia, which added to his forlorn appearance. Aside from his defective vision, he suffered from chronic constipation, which forced him to take enemas throughout his life. He had one black suit, inherited from his dead father, but Tránsito Ariza took such good care of it that every Sunday it looked new. Despite his air of weakness, his reserve, and his somber clothes, the girls in his circle held secret lot-teries to determine who would spend time with him, and he gambled on spending time with them until the day he met Fermina Daza and his innocence came to an end.
He had seen her for the first time one afternoon when Lotario Thugut told him to deliver a telegram to someone named Lorenzo Daza, with no known place of residence. He found him in one of the oldest houses on the Park of the Evangels; it was half in ruins, and its interior patio, with weeds in the flowerpots and a stone fountain with no water, resembled an abbey cloister. Florentino Ariza heard no human sound as he followed the barefoot maid under the arches of the passageway, where unopened moving cartons and
bricklayer's tools lay among leftover lime and stacks of cement bags, for the house was undergoing drastic renovation. At the far end of the patio was a temporary office where a very fat man, whose curly sideburns grew into his mustache, sat behind a desk, taking his siesta. In fact his name was Lorenzo Daza, and he was not very well known in the city because he had arrived less than two years before and was not a man with many friends.
He received the telegram as if it were the continuation of an ominous dream. Florentino Ariza observed his livid eyes with a kind of official compassion, he observed his uncertain fingers trying to break the seal, the heartfelt fear that he had seen so many times in so many addressees who still could not think about telegrams without connecting them with death. After reading it he regained his composure. He sighed: "Good news." And he handed Florentino Ariza the obligatory five reales, letting him know with a relieved smile that he would not have given them to him if the news had been bad. Then he said goodbye with a handshake, which was not the usual thing to do with a telegraph messenger, and the maid accompanied him to the street door, more to keep an eye on him than to lead the way. They retraced their steps along the arcaded passageway, but this time Florentino Ariza knew that there was someone else in the house, because the brightness in the patio was filled with the voice of a woman repeating a reading lesson. As he passed the sewing room, he saw through the window an older woman and a young girl sitting very close together on two chairs and following the reading in the book that the woman held open on her lap. It seemed a strange sight: the daughter teaching the mother to read. His interpretation was incorrect only in part, because the woman was the aunt, not the mother of the child, although she had raised her as if she were her own. The lesson was not interrupted, but the girl raised her eyes to see who was passing by the window, and that casual glance was the beginning of a cataclysm of love that still had not ended half a century later.
All that Florentino Ariza could learn about Lorenzo Daza was that he had come from San Juan de la Ciénaga with his only daughter and his unmarried sister soon after the cholera epidemic, and those who saw him disembark had no doubt that he had come to stay since he brought everything necessary for a well- furnished house. His wife had died when the girl was very young. His sister, named Escolástic a, was forty years old, and she was fulfilling a vow to wear the habit of St. Francis when she went out on the street and the penitent's rope around her waist when she was at home. The girl was thirteen years old and had the same name as her dead mother: Fermina.
It was supposed that Lorenzo Daza was a man of means, because he lived well with no known employment and had paid hard cash for the Park of the Evangels house, whose restoration must have cost him at least twice the purchase price of two hundred go ld pesos. His daughter was studying at the Academy of the Presentation of the Blessed Virgin, where for two centuries young ladies of society had learned the art and technique of being diligent and submissive wives. During the colonial period and the early years of the Republic, the school had accepted only those students with great family names. But the old families, ruined by Independence, had to submit to the realities of a new time, and the Academy opened its doors to all applicants who could pay the tuition, regardless of the color of their blood, on the essential condition that they were legitimate daughters of Catholic marriages. In any event, it was an expensive school, and the fact that Fermina Daza studied there was sufficient indication of her family's economic situation, if not of its social position. This news encouraged Florentino Ariza, since it indicated to him that
the beautiful adolescent with the almond-shaped eyes was within reach of his dreams. But her father's strict regime soon provided an irremediable difficulty. Unlike the other students, who walked to school in groups or accompanied by an older servant, Fermina Daza always walked with her spinster aunt, and her behavior indicated that she was per-mitted no distraction.
It was in this innocent way that Florentino Ariza began his secret life as a solitary hunter. From seven o'clock in the morning, he sat on the most hidden bench in the little park, pretending to read a book of verse in the shade of the almond trees, until he saw the impossible maiden walk by in her blue-striped uniform, stockings that reached to her knees, masculine laced oxfords, and a single thick braid with a bow at the end, which hung down her back to her waist. She walked with natural haughtiness, her head high, her eyes unmoving, her step rapid, her nose pointing straight ahead, her bag of books held against her chest with crossed arms, her doe's gait making her seem immune to gravity. At her side, struggling to keep up with her, the aunt with the brown habit and rope of St. Francis did not allow him the slightest opportunity to approach. Florentino Ariza saw them pass back and forth four times a day and once on Sundays when they came out of High Mass, and just seeing the girl was enough for him. Little by little he idealized her, endowing her with improbable virtues and imaginary sentiments, and after two weeks he thought of nothing else but her. So he decided to send Fermina Daza a simple note written on both sides of the paper in his exquisite notary's hand. But he kept it in his pocket for several days, thinking about how to hand it to her, and while he thought he wrote several more pages before going to bed, so that the original letter was turning into a dictionary of compliments, inspired by books he had learned by heart because he read them so often during his vigils in the park.
Searching for a way to give her the letter, he tried to make the acquaintance of some of the other students at Presentation Academy, but they were too distant from his world. Besides, after much thought, it did not seem prudent to let anyone else know of his intentions. Still, he managed to find out that Fermina Daza had been invited to a Saturday dance a few days after their arrival in the city, and her father had not allowed her to go, with a conclusive: "Everything in due course." By the time the letter contained more than sixty pages written on both sides, Florentino Ariza could no longer endure the weight of his secret, and he unburdened himself to his mother, the only person with who m he allowed himself any confidences. Tránsito Ariza was moved to tears by her son's innocence in matters of love, and she tried to guide him with her own knowledge. She began by convincing him not to deliver the lyrical sheaf of papers, since it would only frighten the girl of his dreams, who she supposed was as green as he in matters of the heart. The first step, she said, was to make her aware of his interest so that his declaration would not take her so much by surprise and she would have time to think.
"But above all," she said, "the first person you have to win over is not the girl but her aunt."
Both pieces of advice were wise, no doubt, but they came too late. In reality, on the day when Fermina Daza let her mind wander for an instant from the reading lesson she was giving her aunt and raised her eyes to see who was walking along the passageway, Florentino Ariza had impressed her because of his air of vulnerability. That night, during supper, her father had mentioned the telegram, which was how she found out why Florentino Ariza had come to the house and what he did for a living. This information
increased her interest, because for her, as for so many other people at that time, the invention of the telegraph had something magical about it. So that she recognized Florentino Ariza the first time she saw him reading under the trees in the little park, although it in no way disquieted her until her aunt told her he had been there for several weeks. Then, when they also saw him on Sundays as they came out of Mass, her aunt was convinced that all these meetings could not be casual. She said: "He is not going to all this trouble for me." For despite her austere conduct and penitential habit, Aunt Escolástica had an instinct for life and a vocation for complicity, which were her greatest virtues, and the mere idea that a man was interested in her niece awakened an irresistible emotion in her. Fermina Daza, however, was still safe from even simple curiosity about love, and the only feeling that Florentino Ariza inspired in her was a certain pity, because it seemed to her that he was sick. But her aunt told her that one had to live a long time to know a man's true nature, and she was convinced that the one who sat in the park to watch them walk by could only be sick with love.