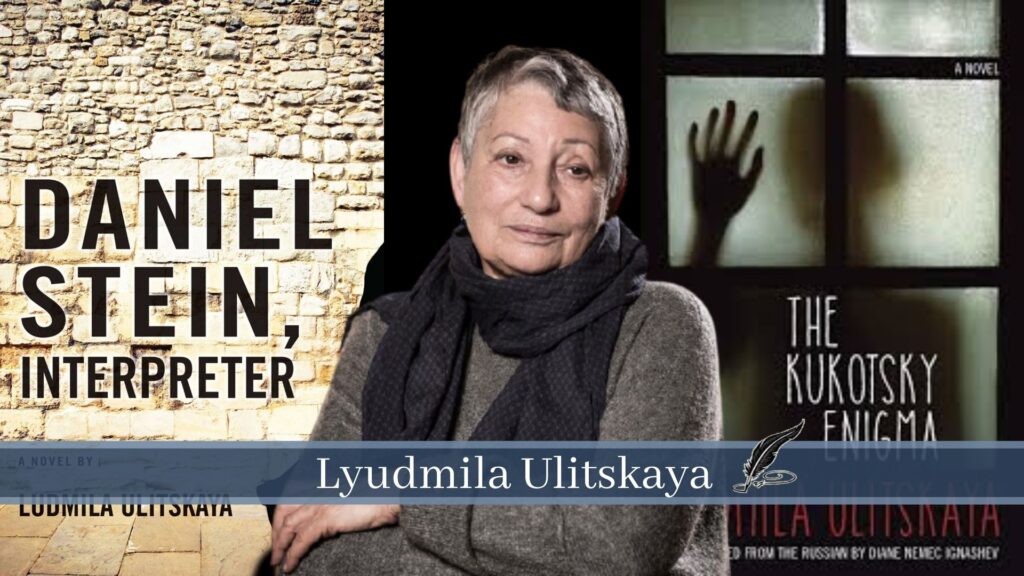 Top 6 Books by Lyudmila Ulitskaya From Russia
Lyudmila Ulitskaya is an internationally acclaimed Russian novelist and short-story writer. She is the first woman author to receive Russian Booker Prize.
Born to a Jewish family in Moscow, Lyudmila identifies herself as a Jew culturally and ethnically and as a Christian religiously. In the early 1990s, she joined the Hebrew Theatre of Moscow as a consultant and started her literary career by writing two movie scripts, The Liberty Sisters and A Woman for All.
Lyudmila was in the top five nominees for the Nobel Prize for Literature in 2020.
She wrote her first novel Sonechka in 1992 that received significant appreciation worldwide and was shortlisted for the Russian Booker Award in 1993. Lyudmila Ulitskaya's books have been translated into many languages and her plays have been staged internationally, mainly in Russia, Germany, and Italy.
In 2006, she published her most renowned book Daniel Stein, Interpreter that addressed the tragedies of the Holocaust. According to her, it was an effort to create reconciliation between Judaism, Christianity, and Islam. She writes about colonialism, racism, and many of Lyudmila's books promote the need for religious and racial tolerance, women's role in the world, and the efforts for a collective society.
She received many awards for her contribution to literature including the prestigious Austrian State Prize for European Literature,Simone de Beauvoir Prize, and National Literary Award Big Book. France also honored Lyudmila with the Legion D'Honneur decoration.
Here are Lyudmila's 6 best books that you must read.
1. Sonechka: A Novella and Stories
She opened up towards his arms, and yet another, final life began for Robert Victorovich.
Sonechkha is a masterpiece and the most celebrated novel by Lyudmila. Sonechka comprises a novella along with six short stories. All the stories in this book have strong female characters who despite all the suffering in their life, never give up.
Though all short stories have different lead female characters, they are all strong-willed, brave, and stubborn in nature. However, in Sonechka, the novella, the lead protagonist is Sonechka. She has survived a cruel world that only appreciates the physical beauty and features of a woman.
Due to her unlikely personality and unattractive physical appearance, Sonechka lives with her parents while her physically charming siblings are happily married. To escape the harsh society, she finds solace in literature and creates an imaginary world around her. She befriends books and fictional characters to feel alive.
When she becomes used to all the hardships, struggles, and challenges of life, her fate takes a twist. Out of nowhere an aged Siberian artist finds her in the library and proposes to her. He was ready to accept her despite her unattractive appearance. Marrying him proves to be a disastrous decision of life, turning her once peaceful world upside down. Lyudmila has packed the novel with many suspenseful turns that will glue its readers to the novel till the final page.
Anokaton in her review of Sonechka, points out that this book has a special message for all the women out there, encouraging them to take their lives in their hands and not allowing the so-called society to rule them.
2. Medea and Her Children
This book is brilliantly packed with dense language, powerful imagery, metaphor, and sardonic tone. It gives an insight into the Soviet and pre-Soviet society's political history. It covers major incidents like WWI, WWII, the expulsion of the Crimean Tatars, and the death of Stalin. It also presents the multi-cultural and multi-faith family saga in Russia.
The major focus of the novel is Medea, a childless widow living alone on the shores of the Crimean Sea. She was born in the 1890s to a Greek family and was regarded as the 'last remaining pure-blooded Greek.'
Despite living alone, Medea is always crowded with her large extended family and friends, who visit her every summer to enjoy the family connection. Though this novel doesn't hold major suspense moments, it is still an entertaining read because of the interesting family drama. Melodramatic moments such as the deceased parents, marriages, divorces, affairs, illegitimate children, and everything connected with the central protagonist, is quite captivating.
The writer creates a magical place with her authentic description of the heavenly Crimean sea and the small village of Crimea, its mountains, steep paths, the scent of the ocean, and the always crowded beach around it.
In the review of Medea and Her Children, Taylor Valley admires Lyudmila's ability to describe the struggles of Crimean Tatars and through Medea's eyes one can see how the identity of Crimea's people shifted during Stalin's regime.
3. Daniel Stein, Interpreter
Being Jewish is something intrusive and final, like the accursed hump of a hunchback.
Daniel Stein, Interpreter is an inspired novel about the real-life events of Oswald Rufeisen. He was a Polish Jew who unintentionally worked as the translator for the Nazi group. He also survived the events of the Holocaust, and later became a monk. Lyudmila through her novel shared all the haunting experiences Daniel, the protagonist, went through in his survival tale.
The protagonist was arrested many times, faced brutal tortures, survived many disasters, was an SS major, and saved the lives of hundreds of men, women and children – both Jews and non-Jews. The novelist took artistic liberties to write this historic piece and shared the trauma of the man with the world. She does full justice in portraying the daunting life of Oswald Rufeisen through the character of Daniel Stein.
Lyudmila didn't settle on a mere narration of the Holocaust events. Instead, she researched through the documents, letters, diaries, sermons, newspapers, governmental records, and transcribed conversations of Oswald. She offered her readers authentic evidence from the past and brought suspense and thrill in her story.
This book also goes into the religious subject matter and provides an insight into Jewish and Christian faiths simultaneously.
M.A.Orthofer in the review of Daniel Stein, Interpreter appreciates Lyudmila's ability to rapidly shift back and forth in time throughout the novel which makes it an interesting and thrilling ride for the readers.
4. The Big Green Tent
Life outside the bounds of literature was harsh and abusive, but the world of books offered living thought, and feeling, and learning.
This 600-page long epic masterpiece of Lyudmila has been translated into more than 35 languages and is often compared to the works of Russian renowned authors Dostoyevsky, Tolstoy, and Pasternak.
This fact-based novel, The Big Green Tent, discusses the lives of three main characters, Ilya, an orphaned poet, Mikha, a god-gifted pianist, and Sanya, a photographer who existed illegally i.e. outside the USSR system.
The novel begins in the 1950s, the Soviet Dissident Movement's prime period. The KGB agents investigate whoever they believe is suspicious and arrests anyone who resists.
At that time, private publications of the literature were banned in the country. It was considered a serious crime, however, our protagonists kept earning through the samizdat, copying and distributing the literature banned by the state.
The Big Green Tent is a book that is all about honor, a quest for justice, repression, state evilness, and diversity. The novel takes you to the streets of the Soviet Union. It gives you first-hand experience about what was the daily life of a common man in those hard times, especially these three young dissidents.
The book depicts the protest against the Putin regime and seems to have captured the entire Soviet Union experience. The corruption of generals and detainees, the brutalities of KGB officers, the dissidents, the sufferings of native and nonnatives in Moscow, and every crucial detail about 20th century Russia.
The writing style is dense and intelligent, packed with wry humor, compassion, and intellect. It promises an educational experience with quality time for anyone who loves Russian literature.
Annie in her review of The Big Green Tent warns that whoever wants to read this historical fiction, must come to it without expectations because the book doesn't follow the typical plot arc with a beginning, middle, and ending.
5. The Funeral Party
Alik had built his Russia around him, a Russia which hadn't existed for a long time and perhaps never had.
Fundamentally, this novel presents two worlds, two cultures, and multi-religious society. The historical and cultural difference between Russia and life in the US, and its effects on Russian immigrants living in New York. The story revolves around Alik's deathbed who was a charismatic painter.
His loved ones that include doctors and quacks, his wife Nina, daughter, and many close friends and lovers, have gathered around him to share their precious memories with him.
Apparently, the story seems to be a funeral gathering of a beloved one but under the surface, it's a spontaneous party that celebrates the existence of art, music, and life itself. The major theme of the novel is the hardships of the immigrants living in foreign countries. The struggles and sacrifices they have to undergo every day.
For instance, Berman and Valentina, both of them are doctors who always dress like respectable people but are living a hard life, struggling in a substandard apartment, stuck in debts with no savings to rely on. And lastly, Alik's wife Nina, who was once a model in New York but had now become an alcohol addict.
Lyudmila is exceptional when it comes to characterization. She includes minute details about each character, their history, complicated lives, and intersecting relationships make this book a wonderful paragon of literature.
This book is a mixture of sarcasm and tenderness, laughter and sadness, satire, and dense humor with intelligence. The thought-provoking novel revolves around the idea of life with Alik surrounded by everyone he shared his life sharing glimpses of his journey.
Lisa Hill in her review of The Funeral Party compares the novel to Leo Tolstoy's masterpiece Death of Ivan Ilyich and calls our author Lyudmila a generous moralist.
6. The Kukotsky Enigma
There's no blood, no parentage, nothing but the irrational, inexplicable, capricious, and good-for-nothing call of the heart.
The novel won Russian Booker Prize in 2001 and holds the record for the most nominated book in Russia. The novel resembles the tone, style, and themes of Russia's great writer Leo Tolstoy.
This book is a family saga around the life of a gynecologist named Alekseevich Kukotsky who has devoted his life to improving contemporary obstetrics. His wife Elena who was his patient, their daughter Tanya, adopted girl Toma, and their servant, Vasilisa are important characters in the novel.
It explores the themes of memory, medicine, ethics, mysticism, destiny, birth, heredity, rebellion, and personal freedom.
The best part of the novel is where Elena is on the deathbed, suffering from peritonitis and memory loss. Lyudmila is successful in creating nostalgia through memories and dreams during this period.
Kukotsty is contending against the government's prohibition on abortion. Despite it being illegal and a heinous crime in Russia, Kukotsky performs safe abortions of the women who otherwise could have faced a lot of complications in their lives.
Lyudmila herself is a geneticist, so many essential parts of the novel resemble an autobiographical stigma. She questions the boundaries of life and death, nurture and nature, and health and safety. The writer never fails to impress her readers. Her strength lies in creating original style and compelling characters in addition to coherent plots.
Victoria L Bennett in her review of The Kukotsky Enigma critically analyzes the story into four parts and tries to unravel and rationalize the various mysteries and enigmas in the story.
---
We welcome you on a journey around the world as we explore works of 80 cherished authors around the world. We list their famous books, give you an overview, and connect you to the best book reviews by readers like you and me so that together we can learn stories from around the world.
Find more author reviews here
Similar Posts: