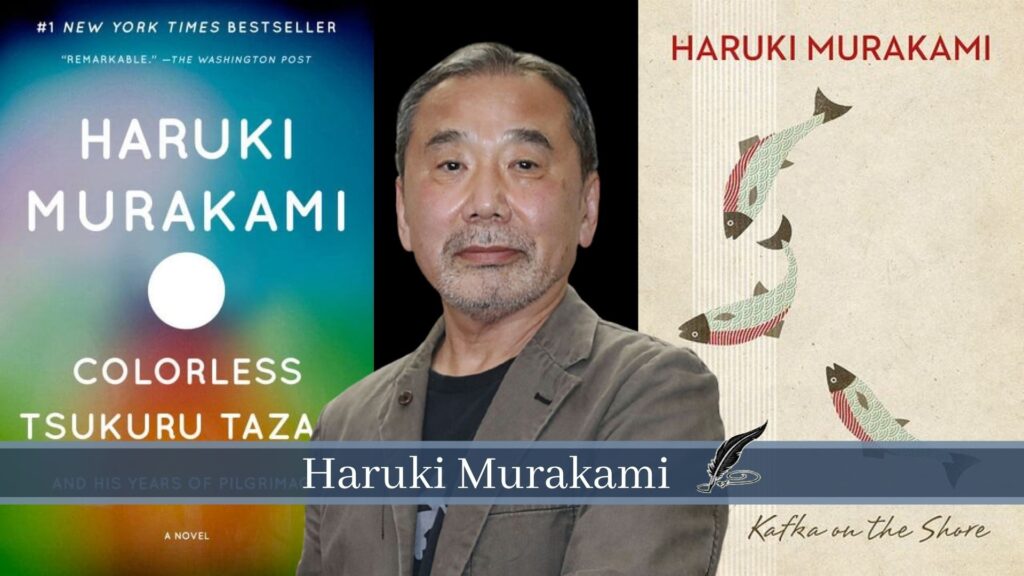 Top 10 Books by Haruki Murakami From Japan
Haruki Murakami is a world renowned Japanese writer who has won numerous awards including Franz Kafka Prize and Frank O'Connor International Short Story Award. The highlight of his success is winning the H.C Andersen Literature Award in 2016.
Murakami was born on January 12, 1949 in Japan to Buddhist parents. Both his parents taught Japanese Literature and hence, he was raised in a family with a strong literary background.
Moreover, he studied drama at Waseda University, Tokyo and wrote his first fiction, Hear The Wind Sing at the age of 29. Murakami soon published his first sequel, Pinball (1973) and The Wild Sheep Chase in the year 1982 which acclaimed critical appreciation.
Since then, there has been no looking back for Murakami! His writings have intrigued the world's greatest literary personalities and his fanbase is huge.
Murakami's writing is surreal yet powerful, which is what makes him stand out from his peers around the globe. Amongst his famous books, here are the 10 best novels that we consider a must-read for every booklover out there!
1. Kafka On The Shore
What I think is this: You should give up looking for lost cats and start searching for the other half of your shadow.
Kafka On The Shore is a story of courage, strength, determination and putting your abilities to the best use. The novel won the World Fantasy Award back in the year 2006 and since then has been considered amongst the best literature penned down by Haruki Murakami.
The novel revolves around two main characters, Kafka Tamura, a 15-year-old boy who wishes to escape the Oedipal curse but must find his mother and Nakata, a man who had the unbelievable ability of speaking to cats.
Kafka runs away from home in an attempt to find his long lost mother and sister. During his quest, he stays at a private library owned by an old woman and reads books to gain motivation for his journey. But one day, his dreams and quest are put to an end when he's arrested under the suspicion of a murder.
On the other hand, Nakata is a middle-aged man who had lost his ability to speak when young. Now he saves lost cats and talks to them. But how does Kakfa land on the shore? Do the paths of Nakata and Kafka cross anytime soon?
Sara Rachel Egelman's review of Kafka on The Shore will help you understand (a little) about the bizarre life of Kafka Tamura and why he shares his name with the literary genius of all times, Franz Kafka.
2. A Wild Sheep Chase
Most everything you think you know about me is nothing more than memories.
One of the best literary pieces by Haruki Murakami, A Wild Sheep Chase is a story about a 30 years old Japanese man who finds himself trapped between a mid-life crisis and unfulfilled dreams.
Our protagonist works in an advertising agency, indifferent to the world around him until one day, he receives a picture of a lady's ear. He soon falls in love with the "holder of the ear," motivated to find her. Finally, they meet and start a new life together.
But soon the protagonist receives threat calls from a wealthy and influential businessman asking him to spill the whereabouts of the "star-faced sheep" whose picture he had printed in the magazine.
The picture was sent to him by his long-lost friend "The Rat." Realizing the sheep's worth, the protagonist sets out on the quest to find it and put an end to his miseries!
This novel is surely one of Haruku Murakami's best novels with strong characters, a powerful plot, and a story with great twists and turns!
Jovenus's review of A Wild Sheep Chase is intriguing for all the theories he has mentioned about the "sheep."
3. Norwegian Wood
What happens when people open their hearts? They get better.
A story of three inseparable friends Toru Watanabe, Kizuki and Naoko whose lives take a drastic turn when Kizuki commits suicide on one unfortunate day!
The remaining two friends, Naoko and Toru, then decide to leave their hometown in sadness. After a while, they join the university in the year 1968 and soon fall in love with one another and find themselves dating sooner than expected.
But then, Toru's room-mate Storm Trooper takes him out on weekends to meet random girls. One night Toru returns to Naoko and consoles her over her sorrows but finds Naoke gone the next morning.
A story of friendship, love and strength, this novel by Haruki Murakami is a roller coaster of emotions that take you to another world as explained by Lucy in her review of Norwegian Wood.
4. The Wind-Up Bird Chronicle
Spend your money on the things money can buy. Spend your time on the things money can't buy.
Toru Okada, an ex legal assistant, sets his foot in Tokyo's busy streets to find the family's missing cat and his wife. But he has no idea what awaits him there!
Soon, he meets his neighbour, a young girl named May Kasahara who introduces him to an empty well nearby to help him gain meaning of his life.
During his search for the feline and his wife, Toru comes across Mr. Honda, a veteran, who bombards him with his war stories. Then he takes him to a hotel where he finds a mystical lady who gives him the power to heal. But will Toru be able to heal and find his wife and cat?
Join this journey of self-healing with Will Heath's review of The Wind-Up Bird Chronicle where he takes you through the different phases of self-exploration as narrated in the book..
5. 1Q84
Reality was utterly cool headed and utterly lonely.
Where "Q" stands for "a world with a question mark" and "84" for the year 1984, the novel 1Q84 is all about questioning the world, the reality and your existence.
It starts off with a young woman named Aomame, who is energetic and looks upon the world "differently" on the suggestion of a taxi driver. Soon she finds herself unravelling the dark truth of what the world holds within.
She goes through a series of events before meeting Tengo, a Japanese teacher and writer whose recent work revolves around a dyslexic girl named Fuka-Eri.
Soon their worlds coincide, opening a new dimension for them and the readers to explore!
The characters of the novel are mysterious, working in a surrounding that is surreal yet powerful. Devised in an alternative universe, the characters collide with one another only to solve new mysteries that the world holds for them! It's a thriller with a touch of magical realism in the usual Murakami style.
Clare in her review of 1Q84 unravels some of the mysteries of the book and believes that it's a daunting read but well worth the effort.
6. Hard-Boiled Wonderland and the End of the World
Once again, life had a lesson to teach me: It takes years to build up, it takes moments to destroy.
Haruki Murakami's novel Hard-Boiled Wonderland and the End of the World is a science fiction series where successive incidents leave you guessing for the missing pieces to solve the puzzle.
The tech-savvy protagonist is hired by a strange yet powerful company to shuffle data in an attempt to process human data through "calcutecs."
He works as a mindreader for a city where people with no "brains" wander the streets with unicorns. The story is full of fantasy, magical realism, and a mind-boggling storyline that will surely make you question your very existence.
The intriguing review of Hard-Boiled Wonderland and the End of the World by Jessica Manuel attempts to decipher the truth from the fantasy and explain each character in depth.
7. After Dark
If you really want to know something, you have to be willing to pay the price.
Mystery, suspense and the dark secrets that unfold within the darkness of the night, After Dark is a thriller that will surely keep you on the edge.
Mari and Takahashi are college students who go on separate dates but end up together enjoying each other's company. Soon Takahashi leaves for his band practice, promising to meet Mari again.
Meanwhile, upon realizing that Mari is fluent in Chinese, Kaoru, Takahashi's friend and manager at the hotel, asks her for help in working as a translator as he tries to save a prostitute from the clutches of Chinese mafia.
In another subplot, Eri, Mari's sister, falls into a deep, trance-like sleep only to wake up unaware of the time and her surroundings. She then falls into the dream like sleep again, near the television only to be haunted by the unknown meaning figure.
E.F. Sunland in her review of After Dark considers the novel to be fascinating and absorbing, keeping you hooked till the end!
8. The Strange Library
No matter what the situation may be, I still take pleasure in witnessing the joy of others.
The Strange Library is a beautiful narration of a series of uncanny, unsympathetic and horror incidents that leave you on the edge.
The story unfolds with a boy trapped inside a labyrinth constructed below a library. The librarian there threatens to eat his brain unless he memorizes ways of tax collection in the Ottomom Empire.
Deep down inside the labyrinth, the boy meets a man dressed in sheepskin who makes the best donuts ever. He also meets a beautiful, mysterious girl who cannot speak who is trapped there too.
How did the boy get trapped inside? Who were those people?
He spends a few days in his friend's attic and discovers a strange painting hidden under a veil. This painting opens a new dimension for him. After a while, his sleep is interrupted by a strange bell-like noise in the jungle forcing him to open the door. He finds himself face-to-face with a stranger who asks him to paint his portrait.
The Strange Library is a story full of mystery, misery and depiction of one's will power to survive, with the characters that are strong and determined to live.
Mark Springe's review of The Strange Library surely holds some interesting theories about the labyrinth and the entrapped people.
9. Killing Commendatore
Look deep enough into any person and you will find something shining within.
Killing Commendatore is a psychological adventure that leads on a journey of self-discovery, fighting the calamities of life with absolute determination and courage.
The protagonist is a 36-years old artist who has lost his younger sister and is trapped in a troublesome marriage, seemingly finding no way out of his miseries!
The story takes numerous twists and turns that leaves the protagonist wandering at the blank canvas in solitude and in an attempt to find his true self.
According to Zahary Houle's review of Killing Commendatore, it's a book full of suspense with a strong plot that feels both real and fascinating!
10. Colorless Tsukuru Tazaki And His Years of Pilgrimage
As we go through life we gradually discover who we are, but the more we discover, the more we lose ourselves.
Tsukuru Tazaki is among those fortunate people who have trustable people they can call "friends." But when he enters college, his friends leave him gradually and he has to reach adulthood all alone.
He goes on to become an engineer and finds his lady love Sara. She asks him to re-visit his past and fill in the hole that was left behind by his broken friendships. Soon, Tsukuru visits his friends, Ao, Shiru, Kuro and Aka, to catch up with them only to discover why they had expelled him from the group.
The plot revolves around power of friendship, the importance of mental health and how one should never believe in false accusations.
Tsukuru was the only "uncolored" member of their group but was surely a reliable friend who was betrayed upon false accusations.
In his review of Colorless Tsukuru Tazaki And His Years of Pilgrimage, Shannon Pulusan criticizes Murakami's excessive use of symbolism and ambiguous narrative in this story.
---
We welcome you on a journey around the world as we explore works of 80 cherished authors around the world. We list their famous books, give you an overview, and connect you to the best book reviews by readers like you and me so that together we can learn stories from around the world.
Find more author reviews here