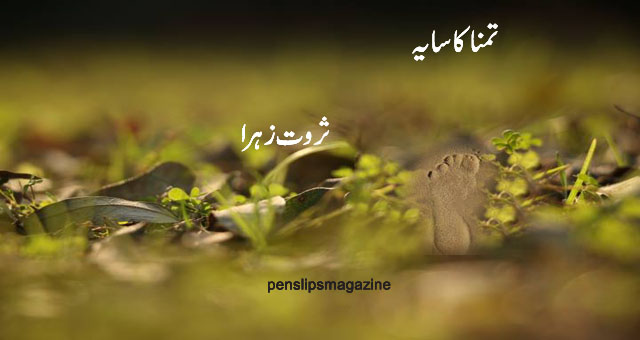 تمنا کا سایہ ۔۔۔ ثروت زہرا
Sarwat Zehra, a young Urdu poet from Karachi presently residing in Dubai. She believes her poetry to be an outcry — an expression of her emotions — that has been with her from childhood, back when she did know how to transform the expression into verse.
تمنّــا کا ســایـہ
(

ثروت زہرا

)
دَری کے نیچے سے نکلے
گرد و غبار میں
میرے قدموں کا نشان پڑا مِلا ہے
نشان ۔۔۔ جو میں نے پچھلی کسی صدّی میں
وقت کی دَری کے نیچے دبا دیا تھا
دَبا دیا تھا ؟
یا تمنّــا کی کسی نئی بار یابی کے لئے
بو دیا تھا
مگر دَری کے نیچے سے
دریافت ہونے والا نشان
وقت پہَن کر
سفر کی پازیب بجاتے بجاتے
سُوکھے چمڑے سا اکڑ گیا ہے
مجھے اپنے پَیروں پہ وہ نشان
کسی بُوڑھی آتما کی طرح خوف زدہ کر رہا ہے
Similar Posts:
Sara Shagufta was an Urdu and Punjabi poet from Pakistan. She committed suicide in 1984 in Karachi. Her works were published anonymously. 
She wrote 'Aankhein and Neend Ka Rang.' An author Asad Alvi translated her poetry into English and published it as 'The Colour of Sleep and Other Poems.' 
A famous Indian writer Amrita Pritam, wrote two books based on the life and works of Sara; 'Ek Thi Sara' (1990), and 'Life and Poetry of Sara Shagufta.'
Read more from Sara Shagufta